[ad_1]
Growing up Jewish meant challah! Friday night and special occasions, it was always one of the tastiest traditions – nothing compares to the beautifully braided shape, shiny crust, and soft, spongy texture. When I went vegan I unfortunately thought I should give it up as it is traditionally made with eggs and honey. But then I tried this easy recipe, and now I'm back to pluck chunks of challah and bake French toast the next day – if there's any left!
This is the best homemade challah recipe, and it's not just for master bakers! This recipe is made with simple ingredients and basic instructions, and if you've never made challah before, you'll be munching on this warm, chewy bread in under three hours. I did a traditional round shape, but you can go fancier and do multiple braids with six or even 12 strands.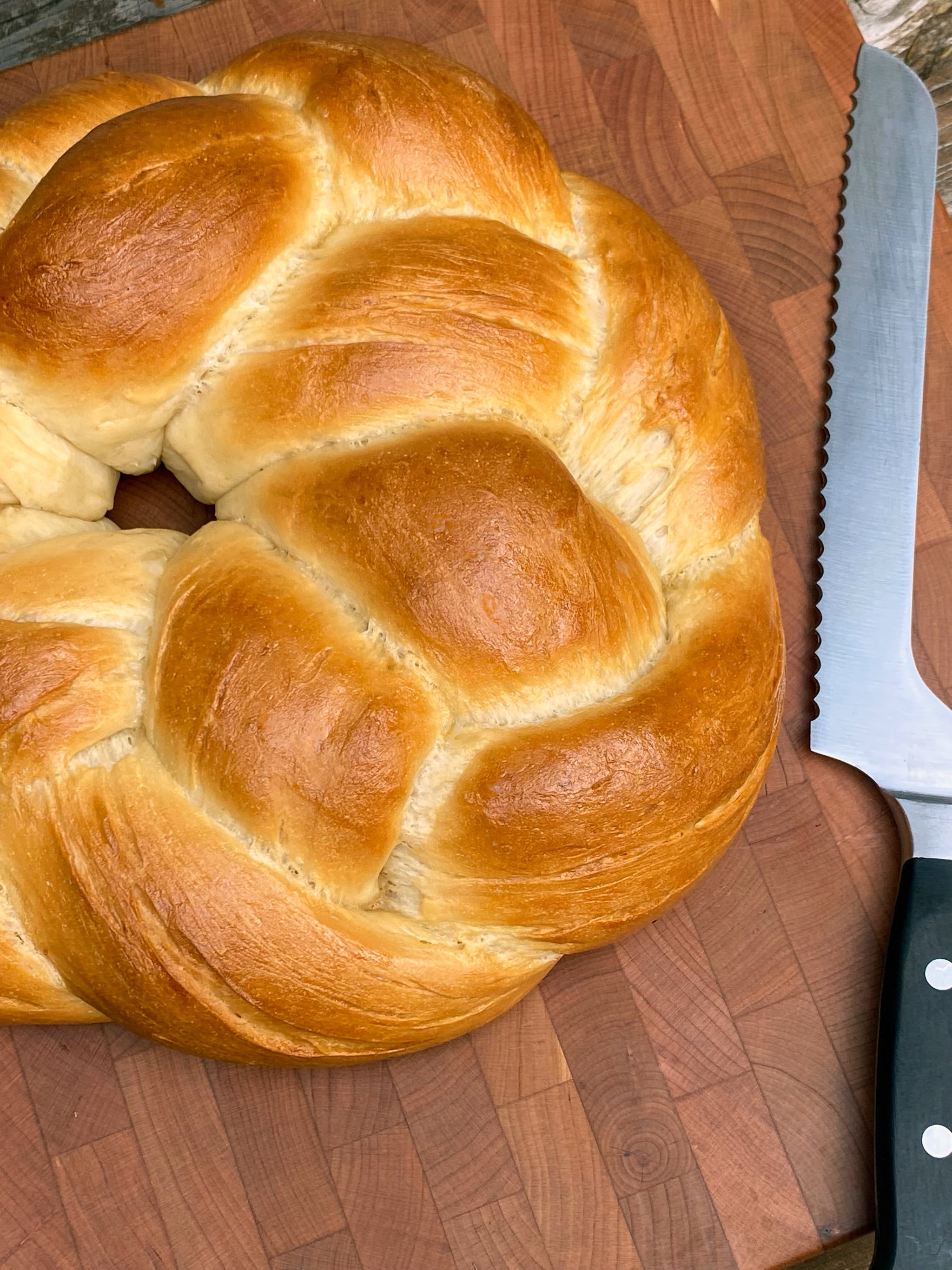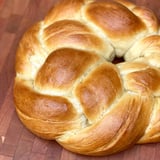 Ingredients
Dough:
1 cup of lukewarm (not hot!) Water, more if needed
6 tablespoons organic sugar, divided (or coconut sugar)
4 to 4 1/2 cups plus 1 tablespoon all-purpose flour, divided
2 1/4 teaspoons of yeast (or 1 sachet)
1/4 cup coconut oil, melted but not hot
Icing:
1 tablespoon unsweetened soy milk
1 tablespoon of maple syrup
instructions
Turn your oven on to the proof setting (about 80 ° F) if it has one. Otherwise, make sure you have a warm place where you can place the baking dough.
In the bowl of a stand mixer (or in a large bowl if you don't have one), add lukewarm water, three tablespoons of sugar and one tablespoon of flour. Whisk to combine.
Using the whisk or stirring by hand, stir in the yeast and let it sit for 10 minutes to activate. You will know it is ready when you see a layer of foam on top as shown in the photo.

Sift four cups of flour in half-cup increments, stirring after each half-cup. The dough will be slightly sticky and lumpy. If it is too wet, add the last half cup of flour. If the dough is too dry and hasn't absorbed all of the flour, add lukewarm water a tablespoon at a time.
Switch to the dough hook or place the dough on a lightly floured surface. Knead for about five minutes, until the dough is smooth and elastic. If you used a stand mixer, remove the batter, lightly oil the bowl and return the batter to the bowl. If you kneaded by hand, lightly oil a clean bowl and place your dough on the bottom.
Cover the bowl with a clean, dry towel and place it in your oven with the proof setting or in a warm place.
Let dough rise until doubled in size, 30 to 60 minutes.

Once it is doubled, strike the dough with your fist and place it on a lightly floured surface to knead for two to five minutes.
Using a large, sharp knife or scraper, cut the dough into three equal pieces.

Roll each piece into a long strand, about 12 to 16 inches long.
Press the three strands together at one end, then braid the paste using a regular braiding technique (as you would for the hair). Or if you want to do a four, five, or six strand braid, check out this YouTube video for some challah braiding inspiration.

Once the braid is complete, you can either leave it like this or make a round bun by bending the braid into a C-shape. Then, connect the ends as best you can to make a circle. Don't worry if it's not perfect. The dough will smooth out as it swells.

Place the dough on a baking sheet lined with parchment paper (I used a pizza pan) and cover with a dry kitchen towel.

Preheat your oven to 350 ° F.
Place the dough on top of the oven to rise for 30 to 60 minutes.
Before cooking, mix the soy milk and maple syrup together. Use a pastry brush to coat the top of the challah.

Bake the challah for 20 to 30 minutes, or until the top is golden brown.
Let cool 10 minutes before tasting.
Information
Food

Jewish

Yield

1 loaf

Preparation time

3 hours

Cooking time

25 minutes

Total time

3 hours, 24 minutes, 59 seconds
[ad_2]